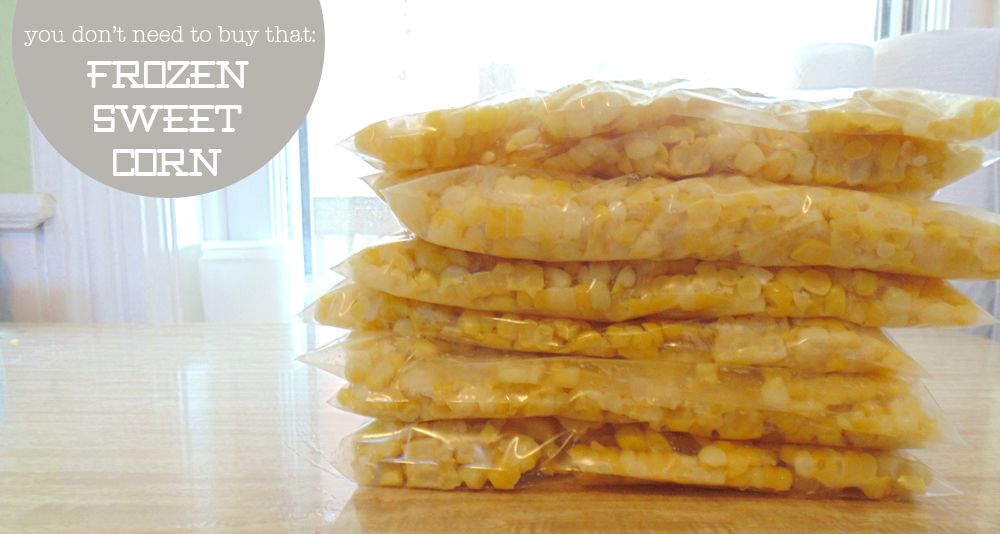 I really love corn. I view it as the junk food of the vegetable world. Corn on the cob is a summertime staple in our home. However, once the winter months roll around we don't often have it on our plate because we prefer to skip vegetables that are packaged in plastic lined and BPA filled aluminum cans.* That's actually a huge bummer for me because I love me some corn from a can. So this year we are making a compromise - frozen corn. We are buying up bags and bags full of local cobs, blanching it and popping it in the freezer for year-round corny fun.
I thought it might be useful to share this super-easy process with you all so that you too can have a taste of summer even on a cold February day.
TIPS:
1. I'm going to try to not get all sanctimonious about buying local, but I will say that local = fresh. Besides, it's hard to not buy local corn in the summer.
2. Keep the corn in a cool place until you are ready to use it. Be sure to process it relatively soon as buying or harvesting it.
3. My grandmother told me that you should wait to husk the corn right up until you're about to put it in the boiling water. I try not to question my grandmother.
4. Make lots and lots of ice in the days leading up to 'freezing' day.
5. Plan to process a bunch of corn at once. I did two dozen at a time.
6. Gather your supplies and set up stations before starting.
What you will need:
corn
1 large stock pot
tongs
timer
ice
medium freezer bags
bundt cake pan
sharp knife
large spoon
large mixing bowl
Step 1
Prepare your work space. One area for husking (preferably outside), a boil, cooling, cutting and bagging station. Set out lots of medium sized freezer bags and label them with dates.
Step 2
Husk your corn. Try to remove as many of the corn silks as you possibly can.
Step 3
Boil a big pot of water. Don't be stingy. Yes, it will take a while to boil but it's worth the wait.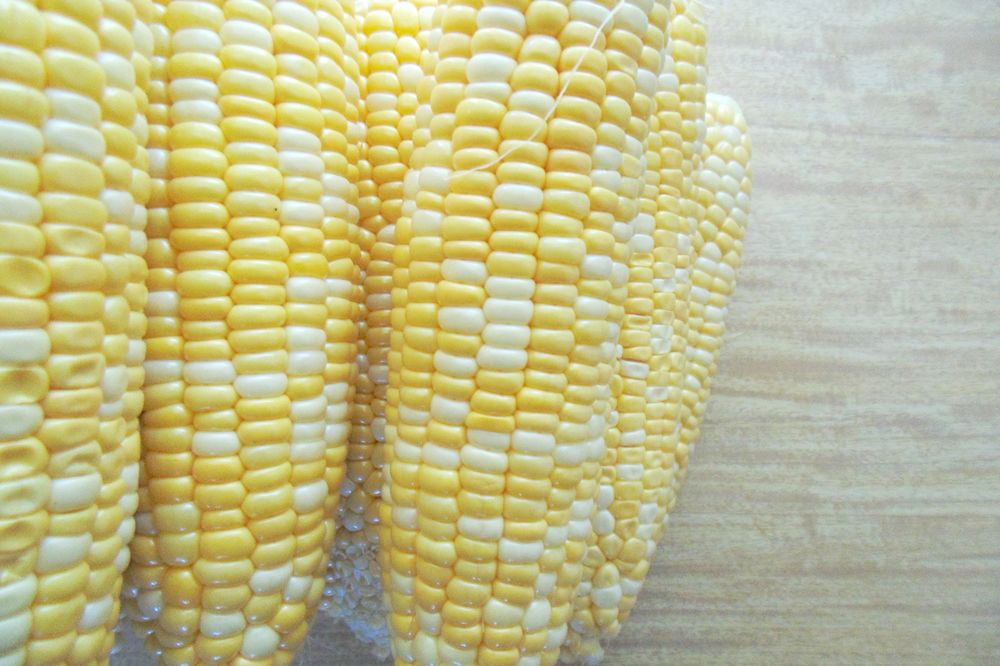 Step 4
When your water has reached a rolling boil you will add the corn. Don't overcrowd the pot or your water will not return to a boil quickly enough. You water should start boiling again within a minute. Allow your corn to cook for about 5 minutes.
Step 5
About a minute or two before the corn is to be removed from the boiling water you will want to prepare the ice bath in an empty sink or large basin. Use cold water and add lots and lots of ice.
Step 6
Remove corn from boiling water and immediately place in ice bath. It should cool for as long as it boiled - in this case 5 minutes.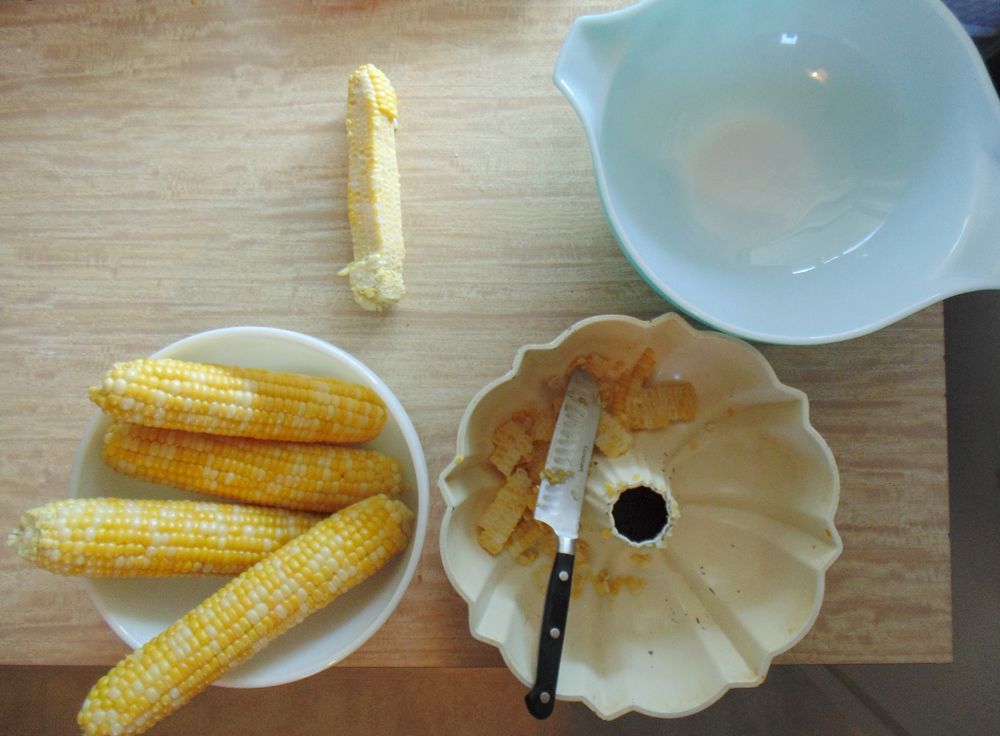 Step 7
It's now time to cut the corn off the cob. I try to cut off about 1/2 to 2/3 of the kernel. I find it immensely helpful to use a bundt pan to steady the cob during this process.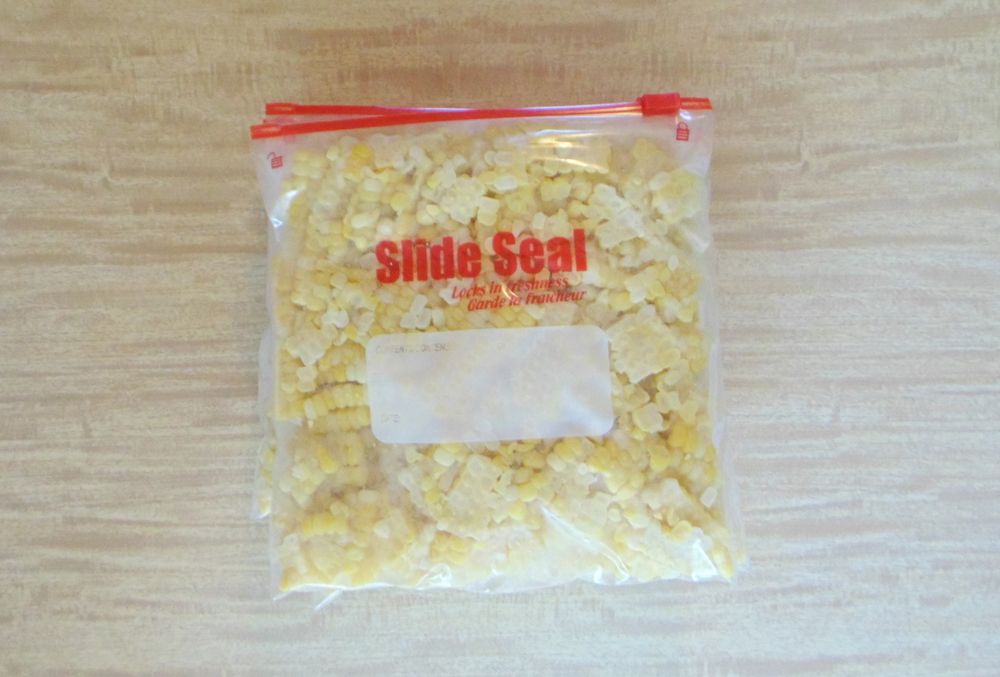 Step 8
Almost done! Use a large spoon to portion out the corn into medium sized freezer bags. You know what sized portions your family will eat so do what works best for you. I like to make them the same size for the most part but I did a few smaller portions for things like soups and stir-fry. When you are sealing the bags you want to try to remove as much air as possible. Sometimes I will use a straw to suck out the air and get a vacuum seal. It kinda-sorta works. Also try to make sure your bags are as flat as possible (without squishing the kernels). This will save precious freezer space. Freezer space is money saving space, trust me.
Step 9
Place the bags in the freezer. If you have a quick freeze shelf, even better, but definitely not essential.
And you're done! Now you have access to local corn all year round. Toss a handful in your next soup or stir fry or even
broil some up as a side dish
. There are plenty of uses for this golden vegetable - what are some of your favourites?
* I'm sure there is some irony to this situation in which I store my corn in plastic freezer bags. I'll have to do some more research and see if I can find some alternative storage.