Before this summer I had never flown a kite. Can you believe that? How does a girl get to be 28 years old without having held the anchor end of a flying paper diamond? The good news is that I popped my kite cherry with the skankiest looking kite emblazoned with the image of Barbie and two of her closest pals. As I ran around the park, looking the fool in my flip flops and a maxi dress, I thought I could most definitely make a cuter kite than the pink thing at the end of my line. So I did.
If you are in a high flying mood you can follow my directions and make this easy and very effective sled kite.
First you'll want to gather your materials. I used:
1 vinyl lined tablecloth (does not necessarily need to be lined but make sure it is somewhat sturdy)
duct tape (in coordinating colour)
2 24" pieces of 1/8" doweling
paint and foam brush (optional)
2 skeins of embroidery floss (or 1 if you are going to use the original thread that came with the kite handle)
kite handle
2 60" ribbons (to use as tails) <-not pictured
You'll want your kite fabric to be somewhat wind resistant. In an earlier attempt I used a light cotton. Didn't work so well. I went with a vinyl table cloth that I had purchased for a few dollars at the grocery store. It's lined with that flannel-ish stuff that sheds easily and that actually helps me out in a later step.
First things first you will want to cut out the main kite piece. I used an old handmade kite as a template and I copied down the measurements below:
Next you will add a small hole on each of the side corners. After I punched these holes I thought I better reinforce the corners with duct tape and then punch the holes once more. I would definitely recommend reinforcing these corners because you'll be tying your strings there.
Next you will sew the doweling in place. I decided to paint mine to match the kite because I'm fancy like that.

I sewed the dowel to the kite in three different place. One at the top, one in the middle and one at the bottom. If you're worried about the dowel tearing off you can sew the entire thing in place.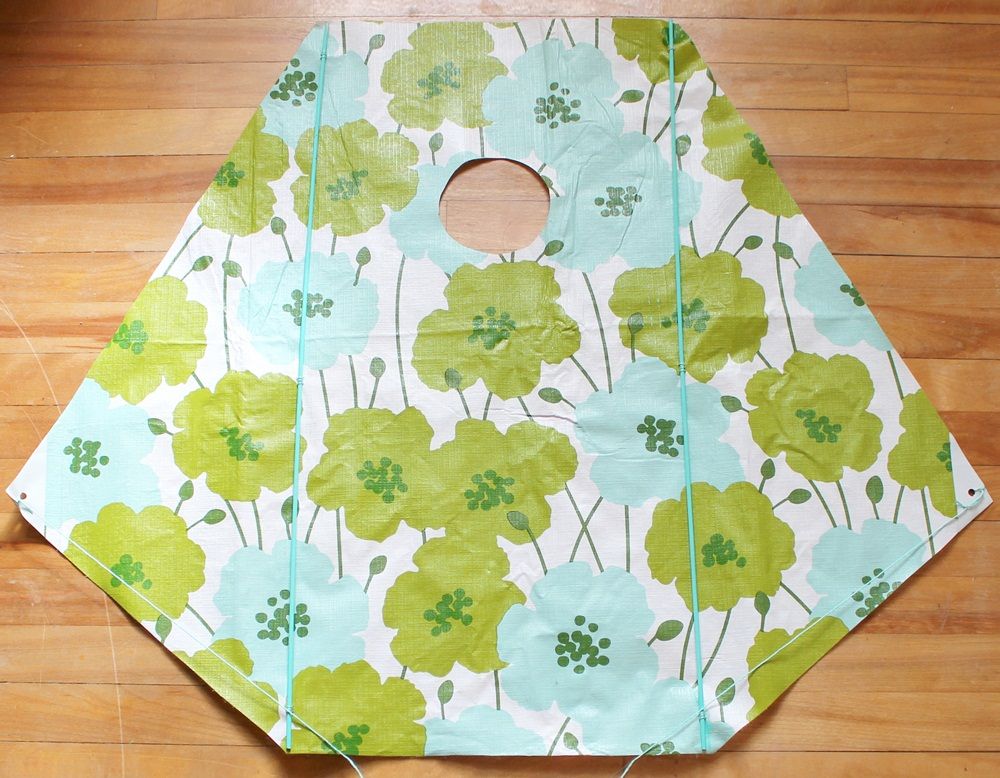 The kite handle did not come with a turquoise string. I unwound the original string and replaced it with a full skein of embroidery floss. This, of course, is totally optional and only slightly neurotic.
The last thing you need to to is tie your kite string in place. I don't have much to say on this one except that I wish I were more confidant in my knot tying skills. I quadruple knotted this sucker and crossed my fingers that it would hold in pace. You should probably take note of the 'Y' shape and try to replicate that as close as you can.

Okay, the actual last thing you should do (that I did not do here) is add some tails. My original sled kite did have tails but after Georgia ripped the off the kite was still able to fly. I did a bit of research to see if a kite absolutely had to have tails in order to fly and the general consensus was no. However, tails add greater stability to a flying kite. I was only able to test this specific kite once before posting and at that time there was very little wind action happening. Although I was able to get my kite in the air for a while it may have gone even higher if I had attached the tails. Live and learn.
Once your knots are in place you're off to the races! The kite races that is...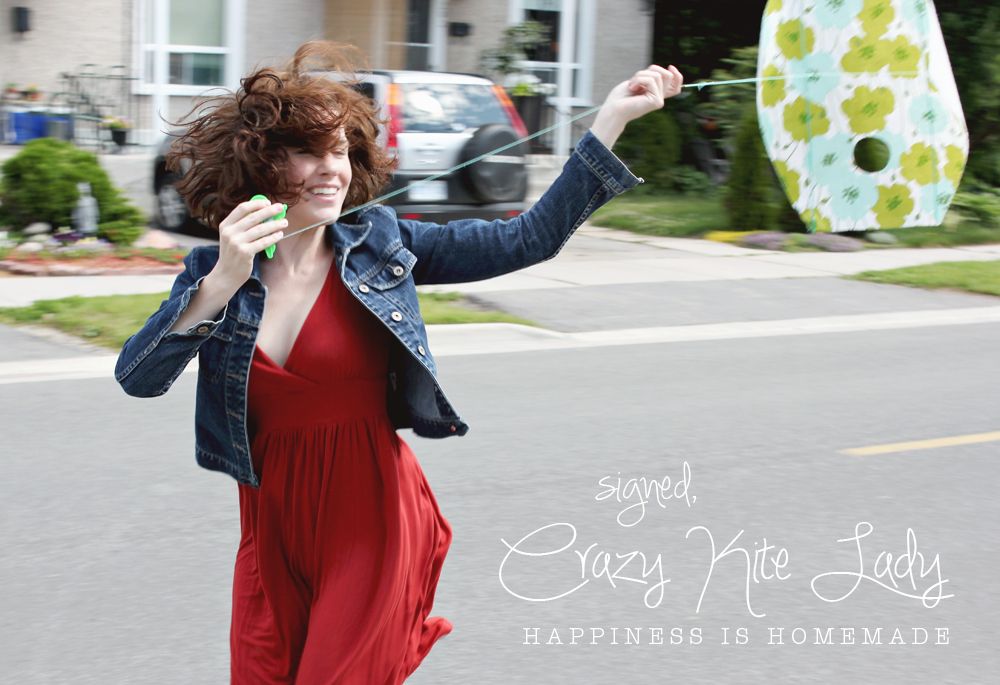 Go forth on a windy day and reclaim your long lost (or never realized) childhood bliss!