This is a project I've been dreaming for ages and I am so stoked to share it with you all today! If you have been reading this blog for (quite) a while you may remember when I introduced my white scallop photo backdrop. I still love that backdrop as much as I did the day I made it but unfortunately it doesn't get to come out and play as often as I would like. (It also lost a war with printer ink and has a few blood red accents. Don't ask.) So I've been wondering how I could bring this scallop into my everyday life and here's the first project I came up with (clearly I have an affinity for the tote bag)...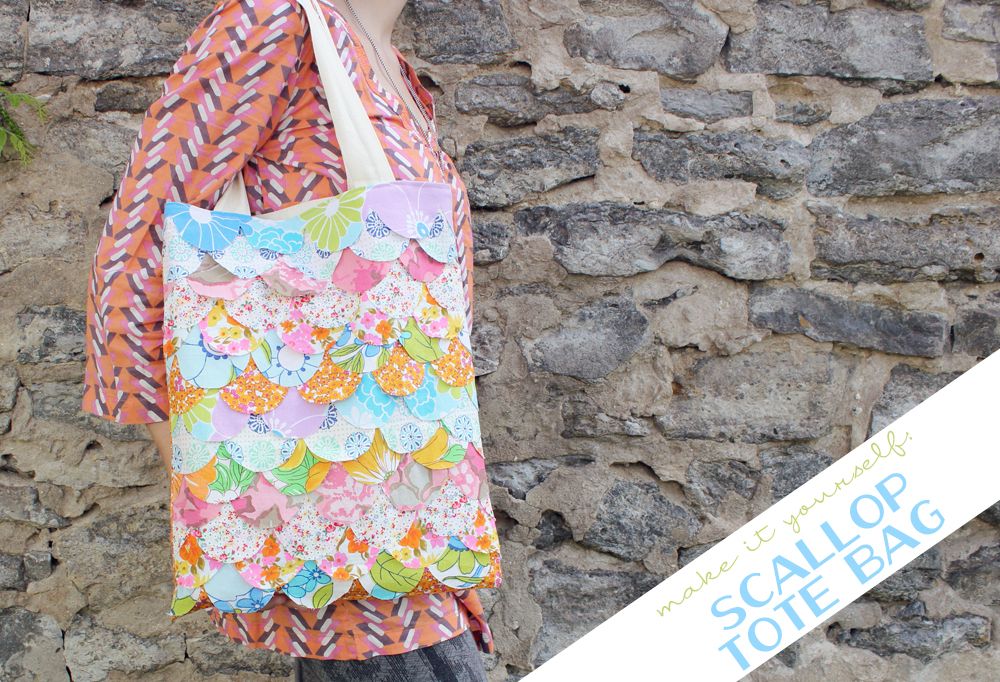 This project is based on my
basic tote bag
template so you'll have to excuse some of my copying and pasting of directions. First you'll want to gather your materials. As always I failed to include some pieces in the group shot.
What you'll need...
2 pieces of the shell fabric - mine are approximately
2 pieces of canvas for lining - mine are approximately
14 - 16 strips of fabric - measuring at least 16" x 2 1/2"
2 pieces of cotton webbing for handles - measuring 16" each
print out of
scallop pattern
sewing pins
scissors
sewing machine
disappearing fabric marker (or a pen in you're cocky like me)
First things first you'll want to line up your two shell pieces right sides together. Pin along the bottom edge.
Sew along the bottom edge and then press out your seam.
After sewing your shell pieces you'll want to plan out your scallops. For this project I decided to cover just one side of the bag in scallops. If you want to do both I say go for it - however these directions are very one sided.
Next we're going to focus on laying down our scallops. Lay out your shell fabric right side up. Remember that we are going to concentrate on just one half of this long piece of fabric. Now is the time to begin cutting out your scallops using
this template
as a guide. As you cut out your lines of scallops place them on this piece of fabric in order to see how many lines you will need. My bag needed 14 lines of scallops to cover the one side. Make sure you are placing your scallops from the bottom up. The bottom edge of the first line should be place about 1/4" above the bottom seam (as pictured).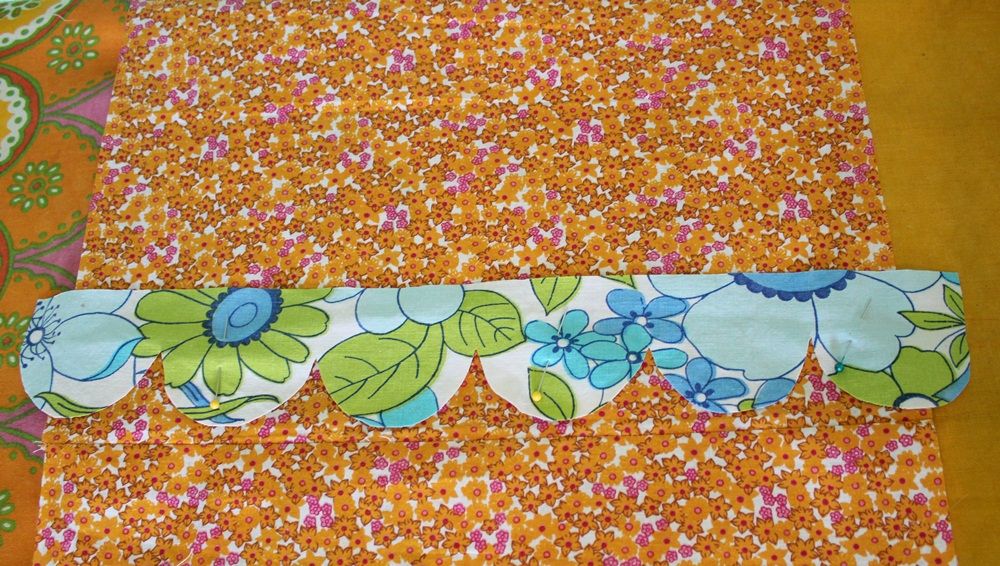 Pin the scallop in place and sew along the top edge.
Continue placing your scallops and sewing them in place. I would advise you to cut your pieces and plan out placement in advance so you're sure you're happy with your fabric placement/choices.
Make sure you shift the placement of the scallop strip each time so that they are not perfectly aligned. This will fill in any gaps that would happen otherwise.
Keep sewing!
See - there is an end in sight!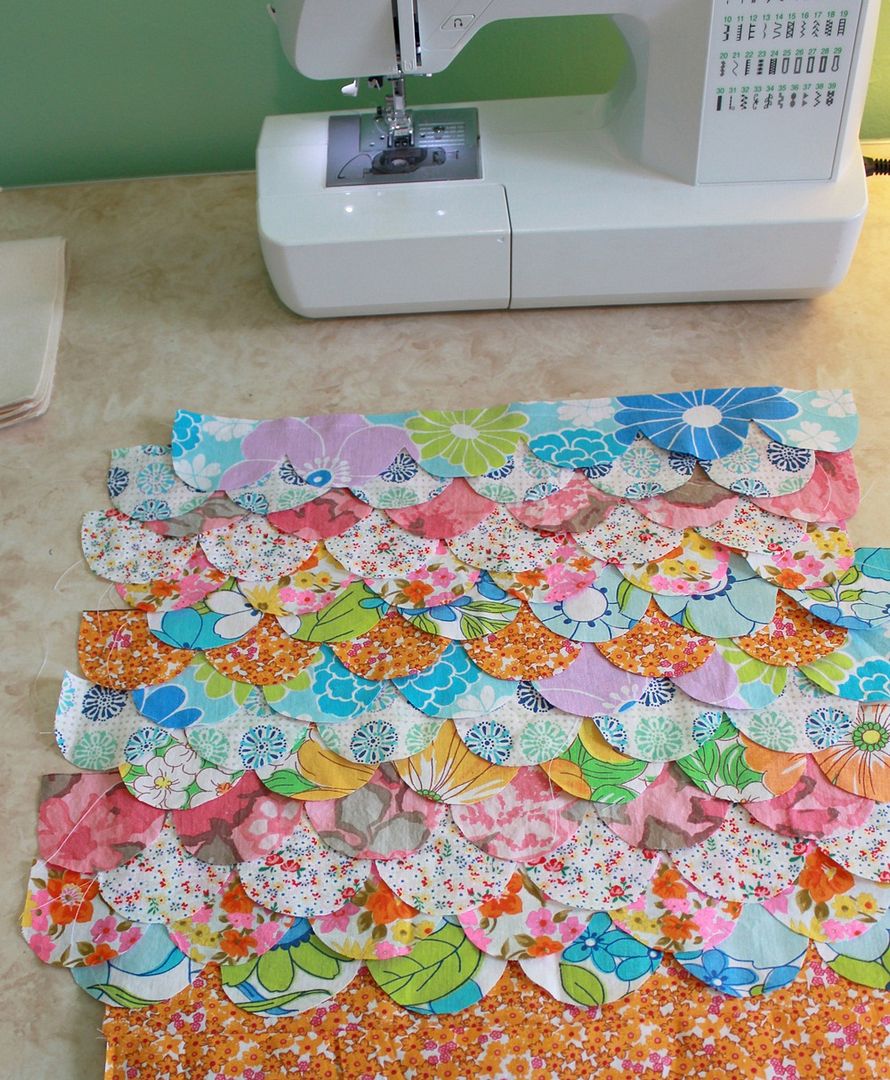 Next you'll want to trim off the excess scallops.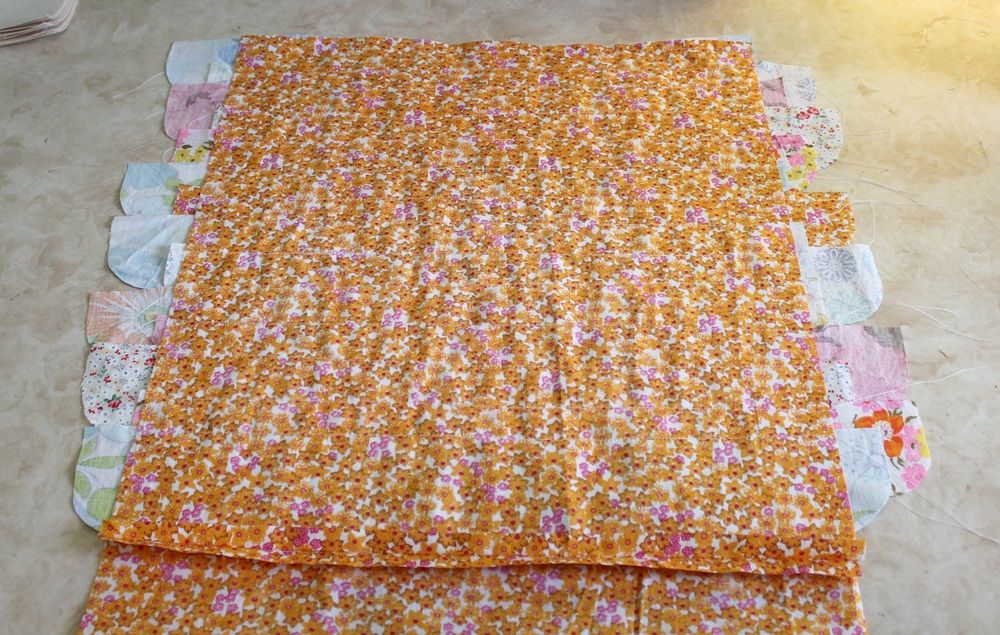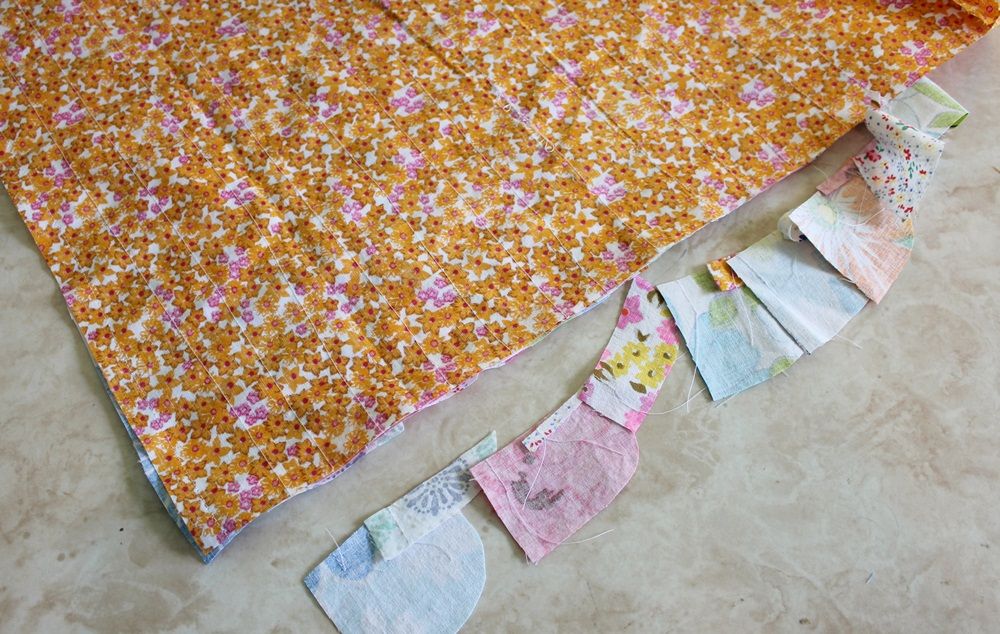 I laid down a straight stitch along each side of the scallops to make sure they stayed in place during the rest of the making process.
Now you will fold the other half of the shell so that the right side will be on top of the scallops. Make sure everything is laying flat and lined up nicely. Pin the two long edges in place and sew. (My apologies, this image is at a weird angle. This is just one of the long side edges.)
Trim edges and square off corners.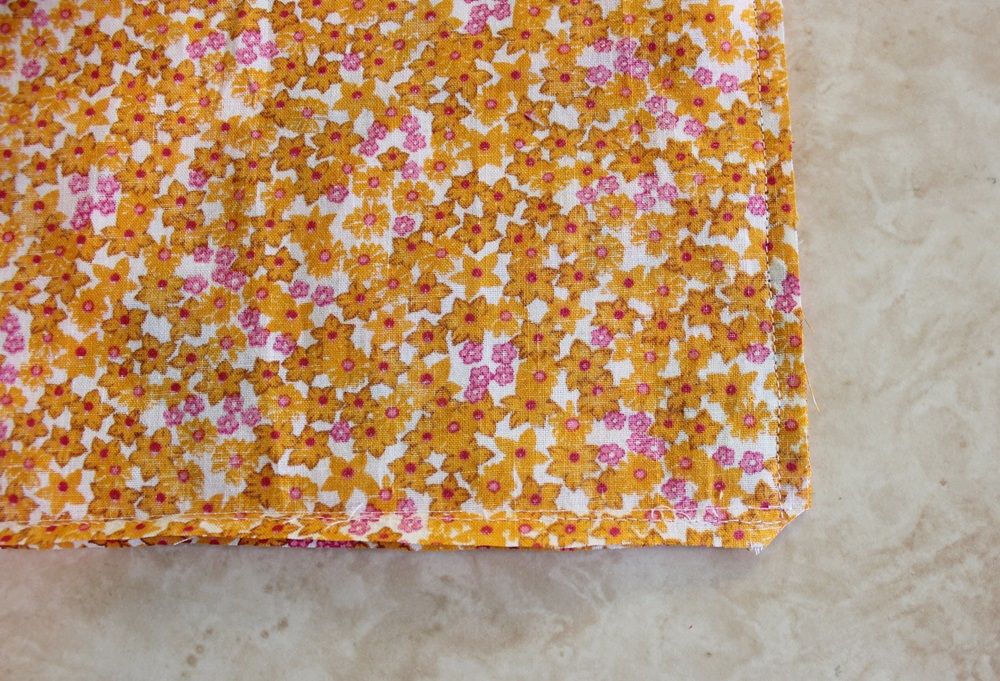 Turn your shell inside out and press seams flat.
Shell is complete yo! Now we're going to assemble the super easy canvas lining. Put your two lining pieces together, pin along three edges (leave one short edge open) and sew along those edges. Trim edges and square off corners.
The shell AND the lining are now complete. You're awesome!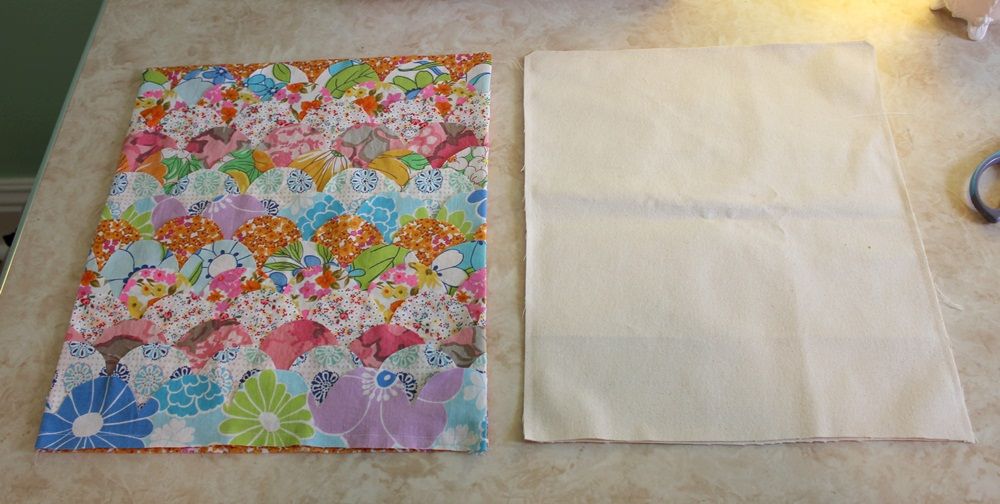 At this point your lining fabric should still have right sides facing while your shell piece is right sides out. Next you will place your shell pocket inside the lining pocket. Make sure your bottom corners line and and that everything is laying flat.
This next step is optional. I wanted to have a fancy strap on this bag so I ended up adding this pretty ribbon with a single long row of stitches.
Now you will shape your handle. I lay the strap on a flat surface, grab each end and fold it towards myself. This creates a U shape that will sit nicely on your shoulder. FYI: If you have decorated handles please do not follow my exact placement. The way I laid down my handles made them turn out inside out. Do the same U shape but lay the decorated side down the other way.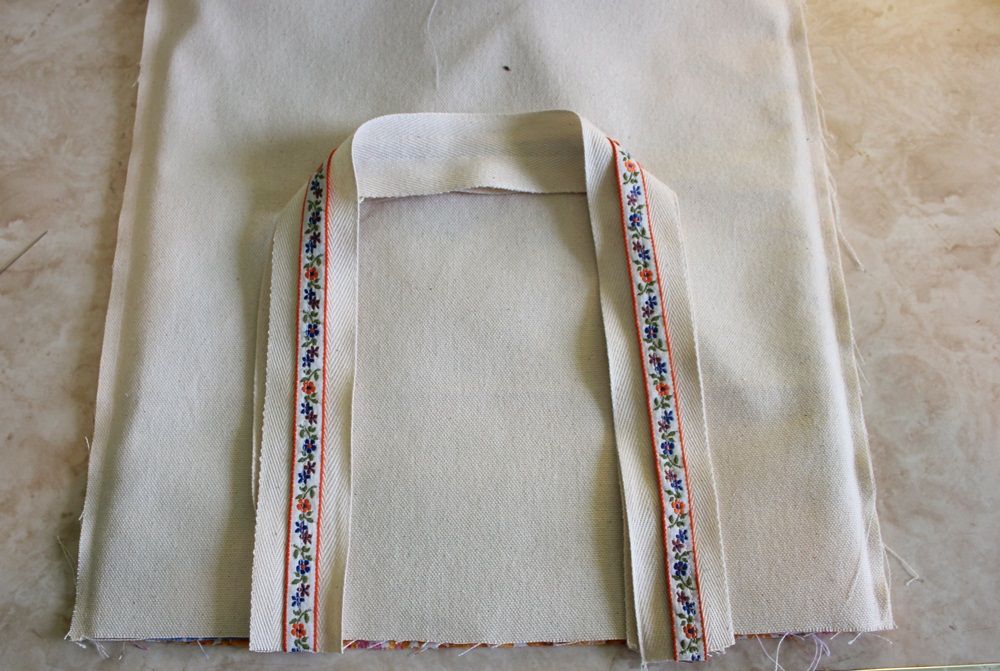 Carefully place the handle between the lining and shell fabric. Pin in place. Repeat on the other side of the bag.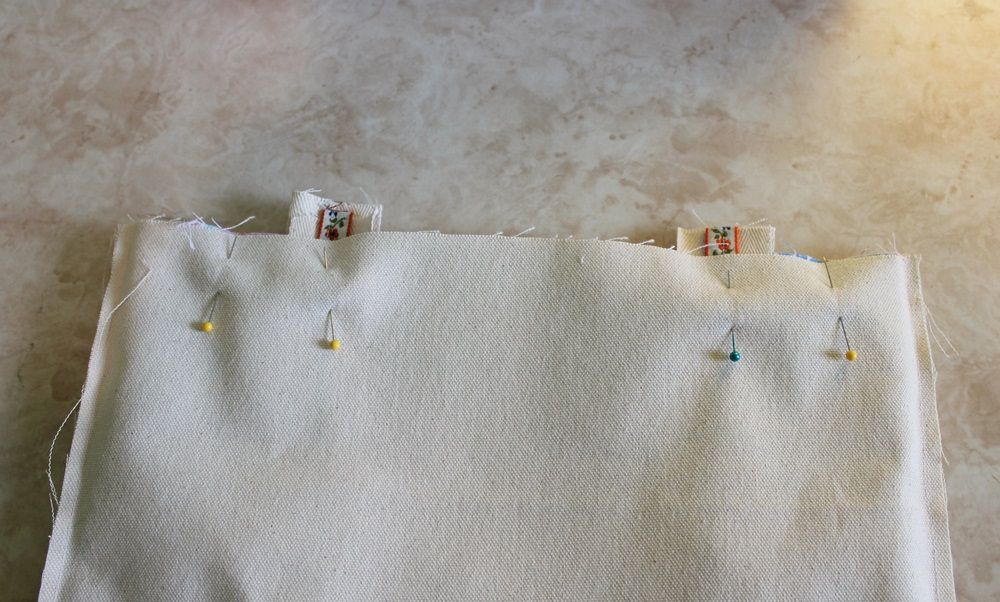 Sew around this open edge. Be sure to leave a 2-3" gap open so that you can turn out the bag in a minute. For extra strength and durability sew over the handles a couple of times.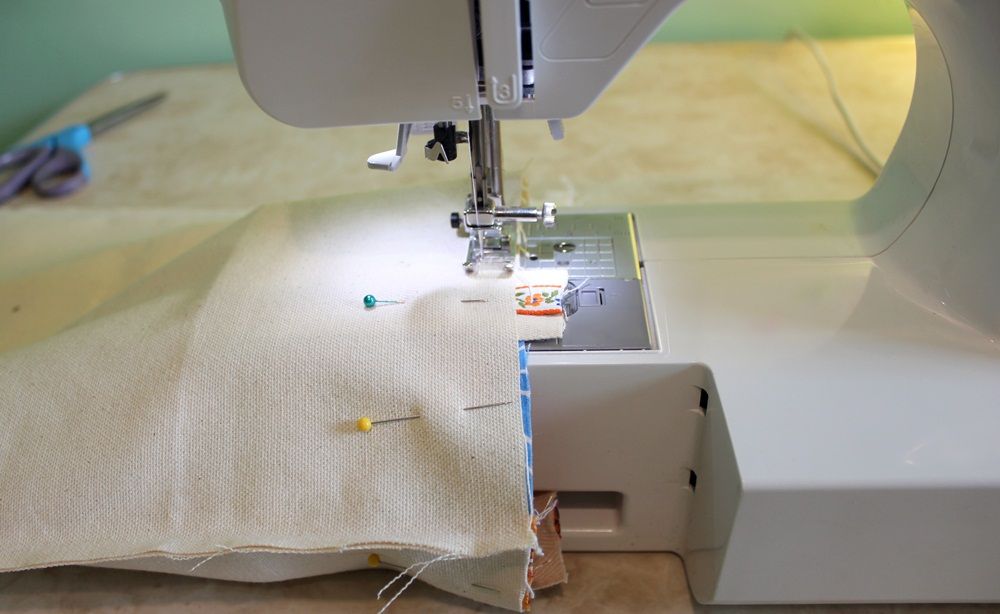 Using the open gap turn your bag inside out and tuck your lining inside the bag. Use your iron to press the top edge flat.
Lay top a top stitch all around the top edge of the tote bed and you are...
I hope you all enjoy this project as much as I do! I'm fighting the urge to bust out a million bazillion of these because I want to make some other things. If you end up making a scallop bag of your own please be sure to let me know by leaving a comment,
tweeting
,
Facebooking
or @ messaging me on
Pinterest
. I'd love to see what you come up with!
Happy crafting!