Yeeeeeeehaw! You have no idea how excited I am to be writing this post.
Elycia
is headed my way this weekend and that can only mean one thing - a live streaming crafternoon event! And we want you to join in on the diy fun!
The last time we got together we made some pretty sweet
camera plush
.
(If you missed that session you can catch the recorded video stream here.)
This time around we'll be making a repositional bike bag. I'm stoked! I spend a heck of a lot of time cruising around with my family in the summer and last year I was wishing hard for a little bag like this. It's the perfect size for a wallet, keys, phone and maybe even a small snack. Better yet it can be placed on the handlebars, body or even the back rack. Yeah, versatility is cool.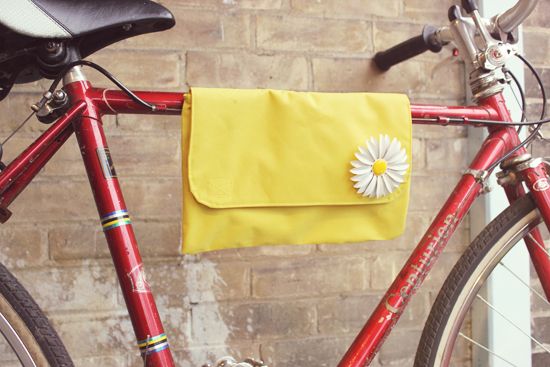 To make this bag you'll need to collect the following supplies:
1 yard weather resistant fabric (or if you plan to mix patterns 1/2 yard for shell and 1/2 yard for lining)
1/2 yard 3/4" velcro (strong hold if possible)
3/4 yard 1" cotton webbing (for back loops so make sure it's sturdy)
complimenting thread
sewing machine
iron
The live crafternoon begins at 4pm est on Sunday, April 29th. If you think you'll be able to attend please leave a comment below. If you have a blog please be sure to leave a link so I can stop by and get acquainted.
We'll be releasing the pattern on Friday morning. There won't be a pattern to download this time but it will give you some time to cut out your pattern pieces before the the fun begins.
Hope to see you there! Here's to keeping it crafty!