It's time for a brand new feature here on My Girl Thursday and I am
excited
!! Amy, from
A is for Ampersand
, and I have decided to start a little something we like to call
Thread Share
. About once every month she and I will be swapping one thrifted piece of clothing (or accessory). Before sending it off with our postal overlords we will have our way with said piece of thrifted goodness and take photographic evidence. Then, one magical day, shortly after the recipient has found the time to get stylish in front of a camera, we will publish a collaborative post that showcases our different takes.
The point of it all? To encourage you to get your asses out of that retail store and give secondhand shopping a chance. If you're an avid thrifter already? To encourage you to explore sections that you have always ignored. Also, I wanted to get a piece of that sweet American thrift shop.
Are you ready for the first installment?!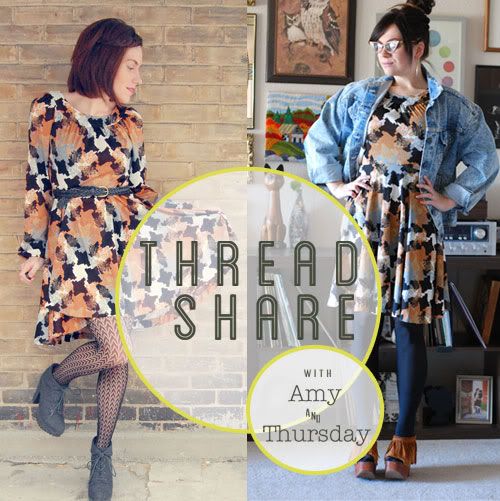 This dress was originally thrifted by Amy and I'm so glad found it. When she emailed me to let me know it was on the way I was warned me that I might hate what I saw. Yes, the pattern is a bit bazonkers but bazonkers is an essential element in my wardrobe. Also, and this is a confession, I really love polyester. I know it's not cool to admit but I'm a synthetic fiber loving broad.
Thrift tip:
It's hard to find the perfect piece of clothing anywhere - but this may be most true at the thrift shop. When you're browsing pick up pieces that meet most of your style criteria. If I found this dress on the rack I would be drawn to the shape, the fabric and the fact that it is in fact vintage. However, the colours aren't totally me. I'm often drawn to bright pieces but that doesn't mean I dress like a technicolor vision every day of the week. After trying on this dress I really liked the way it fit my body and the fact that the tones, although not bright, did suit my nicely. The print was still eye-catching but the colour not eye-blinding. I like that every once in a while.