Hey folks! Today I have Ashley, of After Nine to Five fame, here to tell us her self employment story. I know that making it on our own is a goal for many of us so I hope this will serve as a spark of hope and a swift kick in the ass to keep you chasing your dream.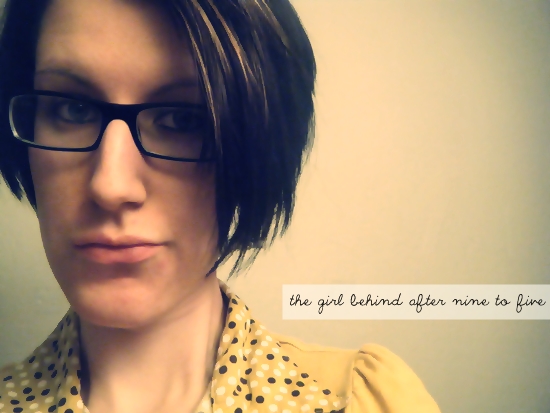 I'm Ashley from over at
After Nine To Five
and today I thought I would share my business story with you. It's been one heck of a ride so far, being self-employed since November 2010, but it's definitely been worth it.
In 2010
: I left my job as a Customer Service Rep at a company that not only my fiance (now husband) worked at, but also my father (right under the Vice President.) I lied, stating it was to focus on school. In all reality, I had no idea what I was doing with my life and absolutely hated my job, but the lie sounded a bit more adult-like. I had no clue what I was going to do, other than a vague idea of a referral business that stopped before it even started. We didn't set aside certain funds to make it through whatever journey I chose. We didn't define a clear path for me to bring in extra income. I just jumped into the deep end, not certain how well I could swim. Reckless? Yep. Totally ridiculous? Definitely. Worth every minute of it?
I've never looked back.
In 2011: I'm not one to sit still for very long so January brought about a need for a hobby. Netflix got old and I was tired of feeling like my life was going down the "drain on society" path so I started making jewelry and opened up a shop on Etsy with absolutely no idea what I was doing. I was eager to learn and made a sale within a week of launching my shop, deciding immediately that was going to be my future. And it was for approximately one year. I learned business techniques, changed my degree from Environmental Management (I know, what on Earth was that doing in there?!) to Marketing, grew my business, and built a foundation for the other branches of my business. I wrote e-books. I started graphic design. I stopped doing graphic design. I started doing graphic design again. I started consulting. I started life coaching. These were the things I came to love, slowly pushing jewelry on the back-burner. I continued on as if nothing had changed, blatantly ignoring the fact that jewelry making was no longer something that held my interest. It was what started my real journey into self-employment so in my mind, I couldn't let go no matter what was happening with it.
In 2012:
I accepted reality. I called it quits on the jewelry making portion of my business, knowing it was time to let go no matter what the consequences were. It opened the floodgates to what felt like hundreds of opportunities. I settled with one, deciding to launch a decal / home decor business with my husband on March 1. The journey has been nothing but a roller-coaster of ideas and emotions, but totally worth the ride. Being an entrepreneur isn't for everyone, but for those that want it and have the desire to make things happen? It's the most spectacular thing in the world. Want more? Visit my
shop
and
blog
, or find me on
Twitter
and
Facebook
.
Thanks so much for sharing your story Ashley!