Full disclosure: I don't really like garlands. They're everywhere. They're overdone. And also, I love them. And I love your guts for reading my blog and putting up with my tomfoolery (and unconventional grammatical choices). So I have a very simple, very sparkly garland diy for you today. Let's get to it.
Gather your supplies:
2 12x12 pieces of glitter cardstock
(similar)
pencil
scissors
craft knife (not pictured)
butter knife (not pictured)
single hole punch (not pictured)
carbon copy paper (optional)
1. After you've printed the letter templates trace around each letter with a pencil.
2. Cut out each letter with zero precision making sure to leave a bit of a border.
3. Place the letter face down on the back of your glitter cardstock. Rub around the edges of the letter (where you have traced with pencil) with the blunt end of a butter knife. This will transfer your pencil markings to the back of the card stock. Do this with each of the letters and TWICE with the 'O' (I forgot to add a second one to the template. Whoopsies!)
**You could use carbon copy paper during this step instead of the rubbing transfer method. I would have if I could have found some at the dollar store.
4. Once you have all of your letters mapped out then cut them out using a craft knife and self-healing mat. You can try using scissors but I promise the knife is 10,000 times easier.
5. Punch two small at the top of each letter.
6. String letters on a long strand of yarn, ribbon, embroidery floss or hair (kidding).
7. Display your mushiness for the world to see!
Thank you so much for stopping by day three of
VD Week
! I hope you're catching a severe case of the crafts ;)
PS
During the photography part of this process my assistant decided to make an appearance. I blame the bad spelling on her.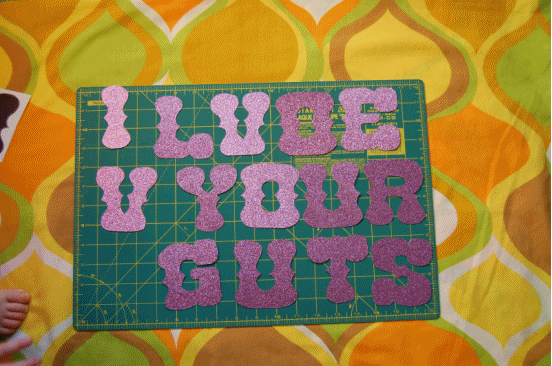 PPS
Amy Sedaris embroidery from the amazing 365 Lucky Days project.