...I'm quite certain I would look a like this the print on this dress.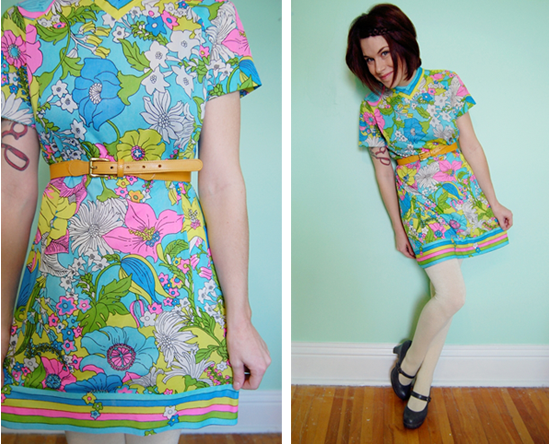 When
Elycia
was down for a visit a couple weeks back I insisted that we hit up my favourite (possibly only?) local vintage shop
Sympathy for the Rebel
. That store has put a hex on me and it's pretty damn rare that I can walk out the door without a pretty paper bag concealing another vintage piece for my closet. This trip I found two perfect things but I'd have to say that this is the perfectest one. Because there are indeed varying levels of perfection.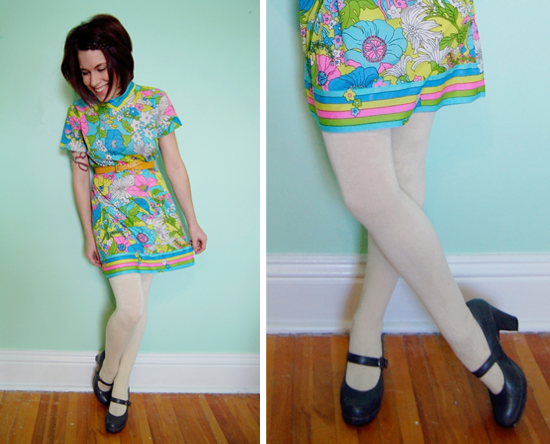 I would actually like to adjust the neckline on this thing but since the zipper goes all the way up to the collar I'm a bit hesitant to take the scissors to it. Losing this dress to my clumsy alteration skills would be a burden I could not bare.
I wore this dress under a knee length coat on a thrifting expedition. When I went into the change room I opened my coat and BAM it was all white tights. My dress had successfully shimmied itself up to my belly button. It's moments like those that pretty much sum up my life.
Speaking of shopping- I'm headed out on an out-of-town adventure with one of my favourite
ladies
. Wish me happy thrifting!