First and foremost I have to say that I'm head over heels for this post. Why I have never written an alcohol related post is beyond me. When Elizabeth asked if My Girl Thursday was booze-friendly the answer was, of course, a resounding yes. I think it's high time that I start filling our liquor cabinet with assorted fancy spirits just so I can test out a few new recipes. I may not be super willing to change my picky-eating habits but I'm all for broadening my boozey horizons. That being said I couldn't be happier to have the very lovely Elizabeth, founder of Please Note Paper, tip the first bottle.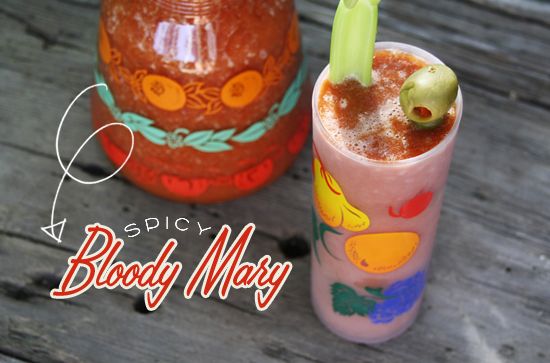 Hello there! My name is
Elizabeth
and I run a little blog called
Please Note
. One of my favorite things to post is recipes so I thought I'd share one with you today! This spicy bloody mary recipe is absolutely delicious but I must warn you, there's a serious emphasis on the word spicy.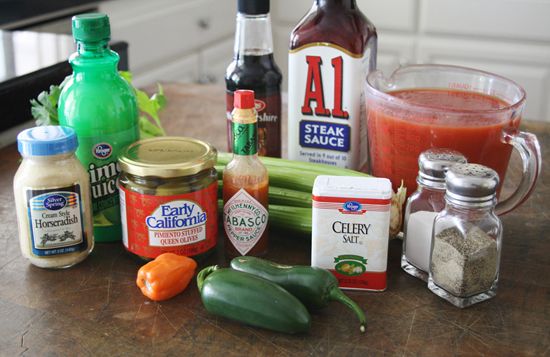 Spicy Bloody Marys (serves about 4)
4 cups tomato juice
3 teaspoons A1 sauce
1 1/2 tablespoons Tabasco sauce
2 tablespoons lime juice
2 tablespoons Worcestershire sauce
1 teaspoon horseradish
1 jalapeno
1/2 of a hababero (or the whole thing if you're up for it)
Vodka (depending on how strong you like them, I used somewhere around 2 cups)
Dice the jalapeno and the habanero. Combine everything using a blender. Garnish with whatever you like. I chose to use celery and a few olives. My Aunt Jen (who originally gave me this recipe) recommends garnishing with a piece of bacon. Talk about the perfect breakfast!
You can find so many hunger-inducing photos and recipes as well as other delicious content over on Elizabeth's blog Please Note Paper. You can also find her on Twitter, Facebook, Pinterest and Bloglovin' if you're so inclined.

Thank you so much to Elizabeth for being such a big supporter of My Girl Thursday this month. It's been a pleasure getting to know you! Now can I please come over for dinner?!
Want to sponsor My Girl Thursday in February? Click here for more information.