Hello you good looking people! Today I have a guest post from the unfairly talented Cassie of Veda House. This girl has an eye for design that has been known to cause envy around these parts. Well this morning Cassie sharing a wrapping tutorial that is simple enough for the most basic diy-er but it packs a serious design punch. I love it!
_______________________________
Hi there! This is Cassie from
Veda House
blog and I'm so excited that I'm here on My Girl Thursday today sharing some holiday gift wrapping ideas. I hope everyone is having a great holiday season and hopefully wrapping up their final shopping trips. I was able to get an early jump start on shopping this year, which meant I was able to spend a little bit more time on the wrapping (my favorite part). I gathered some images that were inspiring and based my wrapping off those images. See inspiration images below!
This look is really easy to accomplish and it was actually super affordable. I was able to get all the supplies I needed for less than $10.
Materials you will may need:
• 1 Large Roll of Wrapping Crate Paper (try to get it as thin as possible. The thicker the paper, the harder it is to make clean folds around the edges)
• I package/roll of string of choice. ( I used black string, but you could also use twine or yarn)
• Several sheets of newsprint ( You can find this type of paper in the drawing section of art supply stores)
• Several sheets of newspaper
• Rubber stamp of choice & ink pad ( I made my own custom stamp, but you can also just buy them to save time)
• Gift hang tags ( find gift tags that have a hole in them so you can string them to your package)
• Scissors, tape
Now the fun begins. Use your creativity and find unique ways to mix & match materials. I used the crate paper, news prints, and newspaper as my base. I then used my christmas tree stamp to crate a paper. (TIP: stamp the paper AFTER you've wrapped up the gift. This saves you time and prevents all your hard work stamping from being covered up in the folds) Once I was done stamping I wrapped the string around the package several times and tied a hang tag from the front knot.
That's it! So easy. Wrapping your gifts this way may take a little more time and thought, but I guarantee you you'll have the prettiest presents under the tree.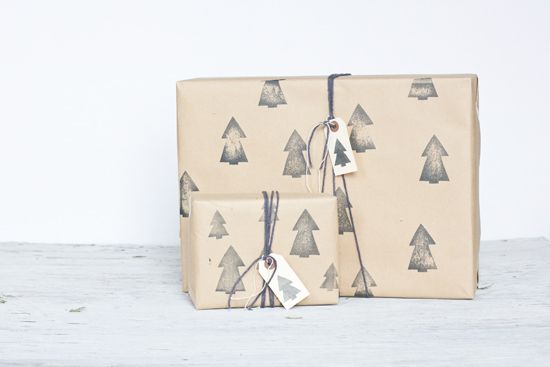 If you have any questions about the materials I used or how I did things, stop by my
blog
and leave me a note.
Happy Wrapping!