Creative Collective
Swap) and so I had the motivation to make something cute - because I'm usually a terrible slacker when it comes to getting Christmas cards done!
So! Below are the steps I used (and that you could use to - though you've probably already got cards sorted and sent for this year!) to make some envelopes and cards. Enjoy!
1.
I decided to make my envelopes out of old magazine pages, in the interest of recycling, and also so they were groovy and unique! Enter
frankie
magazine - one of my all-time fave Australian magazines (did the accent in the video give away my Aussie-ness?). I was really tempted to use old copies of
Peppermint
too... because they print on this divine, thick, matt paper... but I couldn't bring myself to cut those up!
2.
Find a page that is pretty, without much text.
Check
. There are lots of these in frankie!
3.
Pull out pages carefully, and get my cardboard envelope template ready. I downloaded that for free from
here
.
4.
Use a sharpie and template to mark out envelopes. I use a sharpie because it's thick, and makes nice big easy-to-see lines.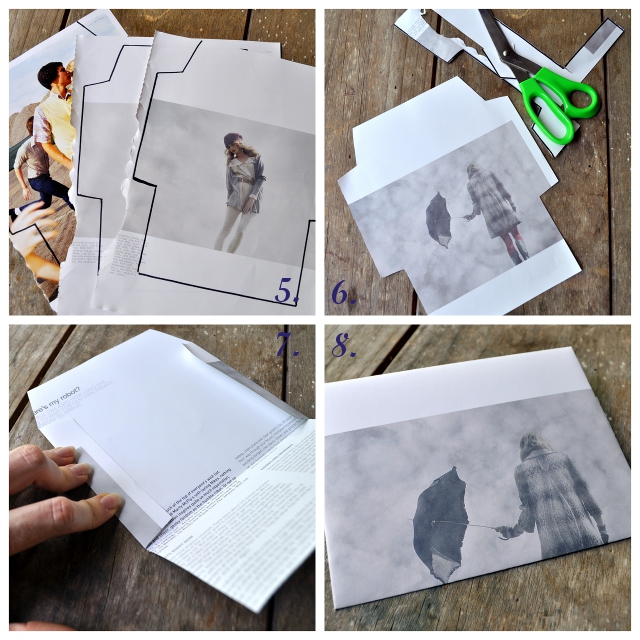 5.
Here are our traced envelopes ready to go...
6.
Cut them out - see, we got rid of the ugly black lines - yay!
7.
Fold-er-up, following the instructions on the template.
8.
Envelope numero uno. I think it looks pretty gorgeous, no? It's almost a shame to have to put an address on it!
9.
Just showing off some of the other pretty envelope pictures before I fold them up.
10.
Address labels... these I printed for free, found
here
, and originally from
poppytalk
.
11.
Cut out and glue the address label in a good position, trying not to cover the nicest part of the pictures.
12.
It will need to be sealed - some sparkly tape will fit the bill!
13.
Envelopes made...
14.
Address labels added!
Now for the cards themselves...
15.
Sheets of A5 sized kraft card are the basis of these cards. I also found some sweet tiny paper doilies - I thought they were a bit reminiscent of snowflakes! Not that this makes any sense in Australia, but it still feels 'Christmassy'. Oh, and to jazz up the inside, I also printed out a whole range of pretty gift tags - I did a
bumper round-up post of these here
if you want to get them for yourself!
16.
Fold in half to make the card. I did this and then stuck the stack under some heavy books overnight to try and flatten them.
17, 18, & 19.
Arrange the 'snowflakes' to please your inner aesthete, then glue down.
20 & 21.
Choose a tag to glue inside the card (so cute!)
22 & 23.
I also decided to add a little vine stamp to add a bit more interest to the card. I will be writing on the left inner side, just to be a rebel.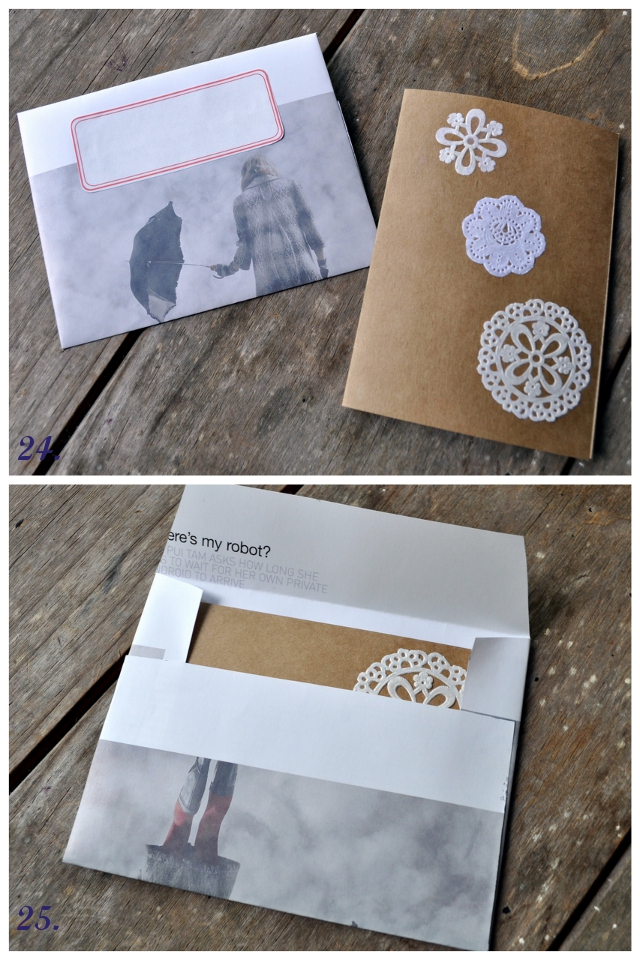 24.
Completed card and envelope!
25.
I made sure I downloaded the right sized envelopes for my cards - check it before you go to all this trouble.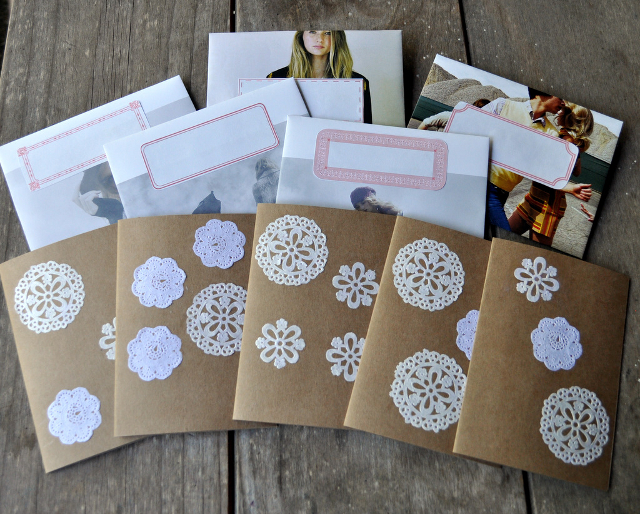 Ta-da! The finished set of cards and envelopes for my swap. I think they look rather pretty!
If you'd like to do something similar, here are all the details..
I hope you enjoyed my little DIY post! It was a pleasure to visit you!
***